Press
Reviews / Interviews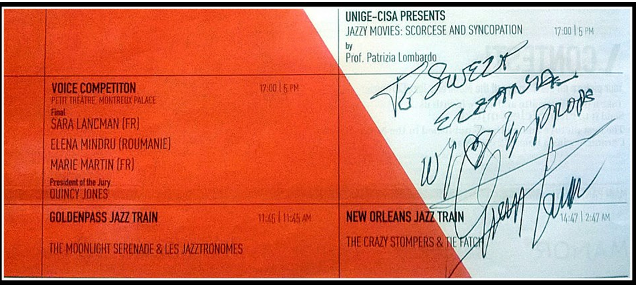 "It was splendid that Elena Mindru's part had been saved to the final part of the concert. Mindru's husband Tuomas J. Turunen also came along to play the piano. His composition Reflection presented Mindru's beautiful voice, smooth frasing and eloquent improvising. Mindru's own tune Evening in Romania was however the grand final and as a big band arangement it had same kind of exploding effect as Night In Tunisia at i​ts time. Complicated Romanian rhythm​s​ inspired the rhythm section​ as well as the whole orchestra to do their best and Mindru herself was astonishingly good in her scatting.
Ethnic Jazz is too rarely heard in the big band world. Mindru possesses now a concept in her hands that she should attempt to extend into a full length concert."
Pentti Ronkanen for Keskisuomalainen (The most wide-spread newspaper of the Middle Finland Region) 8.3.2015 on Jyväskylä Big Band Concert with Elena Mindru as one of the soloists​
​"​Elena Mindru's second album lifts her to the top notch of jazz vocalists. The warm-sounding Mindru is in control of the variety of ​beautiful ​styles and emotions​, t​he interplay of the band is very well merged together​."​
Kauppalehti, 4 stars out of 5. (Financial magazine in Finland) 20.8.2014
​"​Elena's virtuos​ic alto voice conjures ​​very complex sounding melody lines​,​ almost with an
th​oughtless precision and serenity. Evening ​i​n Romania, which is released under Mindru's own label EM Records, is well-produced and well-considered recording, that makes you listen to it over and over again."​
Jemo Kettunen for Keskisuomalainen (The wide-spread newspaper in the Middle Finland) and Savon Sanomat (The wide-spread newspaper in Savonia region) 15.9.2014
​"​Almost equal work of the vocalist and the violin in the front row of the group is a rare combination in jazz, so it's easy for the group to distinguish from the masses.
Of course, the one's attention is focused to Mindru's originality as a singer. The sound is bright and clean, but still strong. The improvisation is freely ​expressed and natural."​
Pentti Ronkainen for Suomijazz.com (Website about Finnish Jazz) 27.9.2014